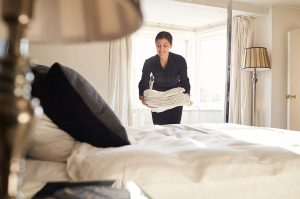 Whether you run a  group of hotels, guest facilities or gyms, Umbrella will create a tailored  package to provide all the cover you need.
We understand the demands of working within the hospitality  sector and are committed to creating packages that are competitive and  reliable.
Whether you are an established hotelier or starting a new  hospitality facility, our team will go through your individual requirements and  create a package suitable for your business type. We will provide you with all  the relevant information so you can make an informed and advised decision.
Umbrella has been providing cover for businesses in a variety of  industries for almost ten years and will take every step to create a policy  that is competitive and cohesive
We provide cover for the following types of establishments but not limited to:
Hotels
Guesthouses
Hostels
Bed and Breakfast
Gyms
Leisure Centres
Please note, if the type of establishment you require insurance for  is not listed, we are still able to help. Please contact us to discuss your  requirements and one of our experienced team members will be happy to help.

Book a Call Now

Book a Call Now
Insurance Sectors: